Claude Debussy's Pianistic Vision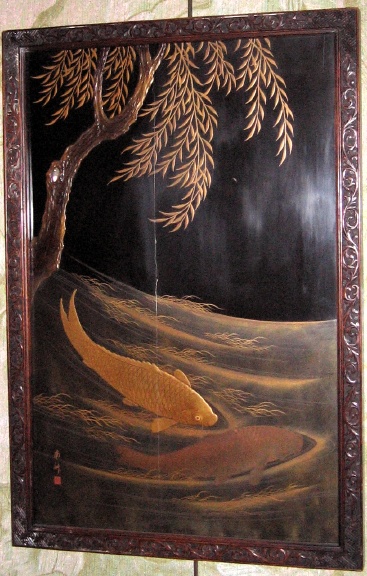 This Japanese lacquer print was on the wall above Debussy's piano. Acoording to Gaby Casadesus, Debussy delighted in contemplating this print. It served as the inspiration for "Poisson d'or" in Images Book II. It is now at the Debussy museum in St. Germain en-Laye.
Six Preludes from Book II, 1912
Anthony Tobin, piano
Videos on YouTube:
Feux d'artifice is one of Debussy's most difficult and impressive works for piano. It encompasses the entire range of the piano and dynamics from very soft to very loud. Debussy's Impressionism alternates brilliant flashes of light with fading, smoldering remains to depict fireworks.
La terrasse des audiences de clair de la lune is an evocative, gently shaded prelude which suggests the shadows and mystery on an Oriental, moon-lit evening.
"The Girl With the Flaxen Hair" is one of Debussy's more popular preludes.
Brouillards suggests mist and subtle shadings of color and light. This video is an experiment which features video of West Texas.
Sound Recordings:
"General Lavine Eccentric" (1.76MB au file) has a "cakewalk" rhythm and repeated melodic pattern and is one of the more amusing Debussy Preludes.
It shows the influence of Minstrels and the cafe and theatre life of Montmarte.
"Pickwick" (1.5MB au file) depicts the changing moods and motions of a foppish character from Charles Dickens. Listen for the sudden dynamic and speed alterations. Can you name the tune in the first few measures?
"Ondine" (1.5MB au file) presents the mercurial moods of a water sprite. She cajoles and tempts at one instance, while in the next she flits away. This piece focuses on the contrasts between the real and imagined. Listen for shimmering passages and flighty qualities depicted the music.